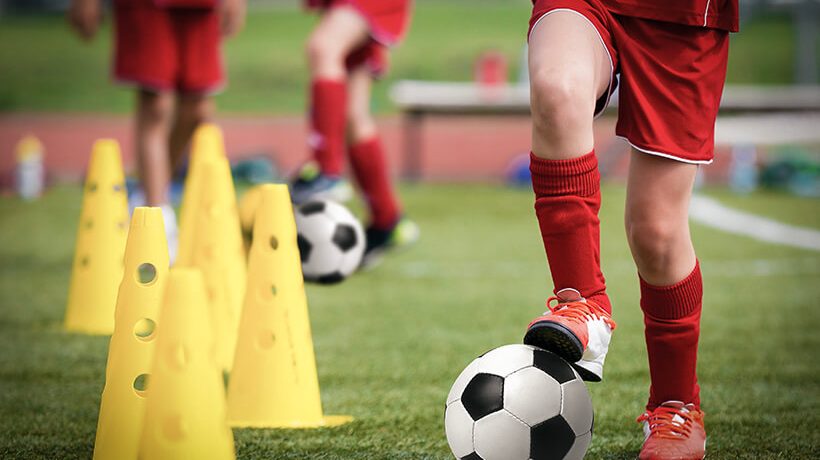 Coaching Different Age Ranges – What's the focus and why?
Welcome to the start of our blog series for Coach Maker+. We look forward to offering insights and discussions into the world of youth development through several experts and our Coach Maker+ team. To start, we want to offer insight into our decision to split our sessions based on the ages of our players, as well as key principles for coaches to consider.
Why the split?
We follow the structure of football (or soccer in the United States) in the U.K. Here, we split these groups to mirror the school system as players move through primary education (5-11 years), secondary education (12-16 years), further education (16-18 years) and then into their university years (for those that want to continue their education). This makes it easier to structure learning and key principles as players move through their education within football.
Foundation Phase (5-11 Years)
This phase caters to players within primary school in the U.K. or elementary school in the U.S. (up to the 5th grade).
Players 5 to 11 years old typically are new to the game and will play a variety of formats during their progression through the age groups. These principles are key:
Do not rush towards the 11 V 11 adult game – this sacrifices time spent in possession of the ball.
Make it enjoyable – our role is to ensure they continue to play the sport for years to come.
Leave your ego at the door – the focus for coaches at this age group should be on development and not how much you win by. Keep games close. Young kids don't like to lose by wide margins, which makes the game less enjoyable for them. The key is to work with opposing coaches to provide a great environment and not be ultra competitive against each other.
At Coach Maker+, we use the phrase, "Me and My Ball" to describe our philosophy to coaching young players within these age groups. This is commonly used across the professional game in England. Players are naturally selfish and struggle to learn sharing toys and getting along with others. Therefore, exploring how the ball moves, how it travels in different ways and spending time in possession of the ball individually and as a team becomes key at these ages. Passing can be taught as 'sharing the ball' at this age to help promote being a good person. This also prevents an adult from forcing a decision onto a player who doesn't understand why.
Different experiences at these ages are imperative. Planning sessions and events, such as competitions, festivals, 2v2 tournaments, 3v3 games and anything similar are great for players. It allows them to explore and experiment with different strategies related to individual and team possession. It also helps foster enjoyment, intensity and a love for the game. These age groups have a golden learning opportunity, which should incorporate technical development and movement skills. All these things will combine to ensure that the player is still playing the game for years to come. Developing a passion for the game that ensures long-term participation in the sport is key at any level of participation.
Youth Development Phase (12-16 years)
In the U.K., secondary school ages fall within the Youth Development Phase. In the U.S., this includes kids in middle school and at the start of high school up to 11th grade. The key principles in these age groups are:
Blend the foundation phase into the 11v11 – but don't rush this. Even as they get to the end of the phase, you can still blend in events and competitions where they play smaller-sided football.
Introduce formations and tactics – help them try different playing styles and systems.
Maintain positive experiences – players should still be excited to come, learn and play with their teammates. They should want to continue playing the sport, so give them experiences that foster passion.
The hardest part of coaching players within this age group is managing expectations and physiological changes. Players will experience growth spurts and changes to their bodies more in this phase than in any other. These changes will bring about losses of coordination and confidence as well as differences in maturation. These should all be considered during the session planning process. Blending technical development with tactical exploration is key within the needs of this phase. It allows players to experiment with different formations and systems. This, in turn, creates players who become tactically flexible as they get older and have a greater understanding of the game.
We term this phase, "Me, My Ball and My Friends". Players are now less selfish; can recognize, form and establish relationships; and play the game with a greater number of players. Therefore, incorporating teammates or friends into learning is appropriate. You must still focus on their role within the team, but also display how they can use their teammates to obtain success in different ways.
Professional Development Phase (18-21)
As players leave secondary school in the U.K. or move into junior and senior year groups in the U.S., the focus leans more towards performing within a team. Learning how to win games or how not to lose them becomes a skill. However, there should also still be a heavy focus on developing individuals. This focus will shift towards developing a player to maximize their performance by showcasing their strengths and hiding their weaknesses. We term this phase, "Me and My Team".
Coaches within the professional game should prepare players for a 1st team environment. This is done through several different avenues including mentor programs, loan spells and a structured league program. These avenues will help them understand how to win games and avoid losing. They will also develop necessary life skills that will make them good people. Within the grassroots program, players often combine any under-21 games with participation in adult football. This means it's essential that coaches understand the physical loading of players. They need to consider what players have done before in sessions and games to avoid injures.
Adults (21+)
As players enter their adult years, football is solely about winning and losing … or is it? We term this phase, "Me and My Career". Look at the careers of Ryan Giggs, Steven Gerrard and David Silva within the Premier League. They have adapted to their roles as their careers reach their end.
To increase the feeling of being valued and enjoying the game, these players need to continue developing as people. This also helps maximize their performance. Development around a philosophy or way of playing will give greater clarity to the players.